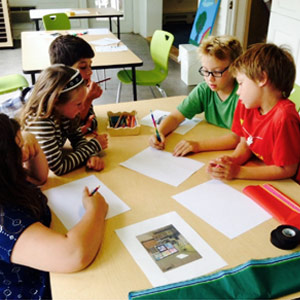 Our curriculum is thoughtfully designed to include the following elements:
Core academics
Students develop strong foundational skills in reading, writing, spelling, vocabulary, mathematics, science, social studies and geography.
21st century competencies
Students participate in inquiry-based projects that promote critical thinking, collaboration, communication and innovation.
STEM
Principles of science, technology, engineering, and math are integrated into explicit instruction, projects and exhibitions of learning.
Individual Learning Plans
Teachers establish individual academic goals for each student to ensure that learning is continuous, dynamic and appropriately challenging.
Digital Literacy
Technology is incorporated in meaningful and targeted ways across content areas to develop proficiency with using digital tools.
Global Awareness
A global perspective highlights the geography, history and cultural traditions of countries outside our own.
Spanish
Dynamic and interactive Spanish language instruction allows students to acquire conversational, reading and writing skills in a second language.
Artistic Expression
Specialists teach art and music classes to develop artistic abilities, encourage creativity and cultivate an appreciation of these disciplines.
Work Habits
Initiative, planning, persistence and self-reflection are promoted during the learning process. Students learn strategies for time management, organization and efficient homework completion.
Physical Education and Wellness
Students participate in hands-on activities that develop motor and movement skills, while fostering teamwork and good sportsmanship. Lessons related to health and mindfulness are also emphasized.
Environmental Stewardship
A strong environmental ethic underscores daily experiences at Vermont Day School. Students are encouraged to be responsible, global citizens that care for ecosystems, both far and near.