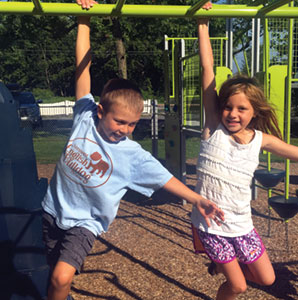 Our camps are designed with our school values in mind. We strive to develop creative thinking and problem-solving skills through hands-on activities. Our faculty designs each of our camps to maximize learning, creativity and fun! In the daily schedule, structured activities are carefully balanced with free play and outdoor exploration. While students spend time playing and socializing with friends, they also learn valuable skills that last a lifetime.
Summer 2017 offerings included a Day Adventurers camp for children entering grades K-3. Campers spent their days playing outdoor games, doing water play and summer-themed crafts, and taking field trips to nearby locations including the Shelburne Museum, La Platte Nature Preserve and Shelburne Beach.
Our older students (grades 4-7) had the opportunity to participate in Wilderness Explorers camp. Campers spent the week learning the necessary skills for a camping trip and visiting local parks and swimming spots. The camp culminated in an overnight backpacking trip to Branbury State park.
Be sure to check back in February for Summer 2018 camp offerings!