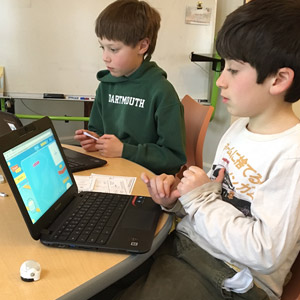 Middle School students are immersed in classic and contemporary literature with relevant, thought-provoking adolescent themes. Reading both fiction and non-fiction, they develop critical reading and analysis skills, as well as their ability to engage in rich dialogue about text. Students read a wide variety of text genres that support their learning across content areas.
Our writing program at the Middle School level encourages students to become effective communicators, who write with clarity and purpose in mind. Through continued practice with the writing process, students learn to craft analytical essays in response to text and persuasive essays to showcase their opinions. Creative writing is also woven into the curriculum through personal narratives, short stories, poetry and graphic novels.
Grammar lessons and vocabulary development are incorporated into daily practice in English & Literature classes. Middle School students have access to Chromebooks and iPads for drafting, editing and collaborating on writing.