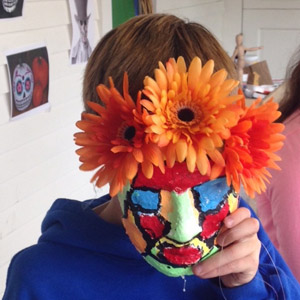 The Middle School Spanish program seeks to build enthusiasm and confidence in students' command of the language, and to develop fluency in listening, speaking, reading and writing. Our hands-on, interdisciplinary approach incorporates role-playing, skits and simulations, discussion, group projects and challenges, art, music and movement into everyday learning.
The curriculum moves into more advanced study of the Spanish language. Students broaden their vocabulary knowledge and learn more complex grammar structures, enabling them to participate in fluent dialogue, and read and write confidently and accurately in Spanish. Students read novels, short stories and poems by Spanish-speaking authors, and engage in interdisciplinary studies of Spanish-speaking cultures.
We recognize that Middle School students new to Vermont Day School will arrive with different levels of Spanish knowledge, or prior study in other world languages, such as French, German, Hebrew or Mandarin Chinese. We are open to the possibility of students continuing to develop fluency in these languages through supported independent studies, community mentors and/or on-line courses.