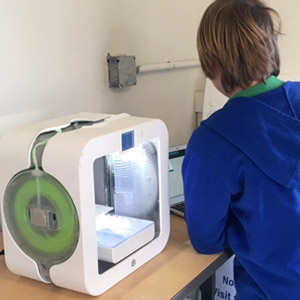 Middle School students continue to learn what it means to be responsible digital citizens. Technology is integrated meaningfully into the curriculum to deepen learning and allow students to access information in a variety of multi-media formats. Middle School students have access to both iPads and Chromebooks.
Teachers and students use digital tools to support homework and google classroom applications to collaborate on shared writing and group projects. Throughout the year, students build digital portfolios to compile work samples that reflect progress and growth.
Middle School students participate in a weekly computer programming class during which they learn computational thinking and coding skills, using both "unplugged" activities and computer-based lessons and projects.
Discussions related to internet safety, privacy and security, digital footprints, and copyright law and fair use are also incorporated into learning opportunities.