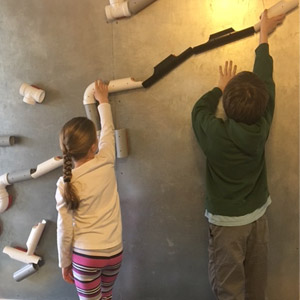 The overarching goal of our Middle School math program is to provide students with the mathematical tools to think and reason logically, analyze data and statistics, communicate effectively and confidently, and address real world questions and challenges.
Students are grouped by skill level to ensure that they are appropriately challenged and continuously engaged. The Middle School mathematics program at Vermont Day School follows a sequence of pre-algebra, algebra and geometry. This learning progression continues to strengthen the procedural and conceptual knowledge students acquired in elementary grades, while building new understandings in more sophisticated topics such as: probability, proportions and ratios, patterns and functions, solving equations and inequalities, statistics, graphing and deductive reasoning through writing proofs.
Our instructional approach in math utilizes a carefully designed balance of direct, systematic instruction and project-based learning that challenges students to apply their knowledge and skills, and discover the usefulness of math in the world around them. Examples of projects include using data and statistics to create an effective advertising campaign or using principles of geometry to design a green roof for a local business.